Heading for Southern Swedish Lapland
Looking for a change from the more obvious destinations of Scotland or Ireland and keen for a somehow wilder adventure, I set off the third Saturday of June to the northern province of Vasterbotten, just a couple of hours south of the artic circle.
The salmon season was opening on 19th June and hopes were high that after a few days of putting my new salmon rod to the pace, I would be in for a few good fishes on the fly. Prepared for anything, I was ready to seize opportunities.
The Guides and The Rivers.
My choice of destination had been guided by a combination of articles in the angling press and a lot of exciting research on the internet. The plan was to fish two rivers: Byskealven and Logdealven. I was here for a week and would split my time between these two rivers depending on circumstances. As if there was anything like ideal conditions in angling lore!
Distant from each other by three hours driving, they both have different characters as I would later discover and would give me a flavour of the immense water resources of this country.
Despite landing six hours late in Skelleftea because of a missed flight connexion in Stockholm Arlanda, I felt relieved that my rods had survived transport in the plane cargo. Less enthusiastic was I about the way the first mosquitoes immediately greeted me on the airport parking! Anyway, slightly dreading the constant company of these buzzing winged friends, I quickly picked up a hire car and headed off north to the small town of Byske where I was meeting Carl Holmkvist, my guide for the following day.
Carl
One of only two Scandinavian A.P.G.A.I instructors, Carl is an English and music teacher who leaves in southern Sweden but travels to Byskealven every summer to guide for the short salmon season (19th June to 31st August).
We met in Byske and I bought my permit and a few supplies at the local service station. After ½ hour driving through the forest on tarmac and gravel tracks, Carl dropped me around 9pm at his caravan parked by the river. It was going to be my base camp for the next two days.
"The river, he explained, yielded several 30lb salmons this week but I am afraid it is in spate and unlikely to be in proper fishing order before 3 to 5 days." With this enlightening statement in mind, we agreed to meet at 10am the following day, an early start rended unnecessary as the river level would take time and even days to drop!
Here I was alone right in the middle of nowhere in the Swedish forest surrounded by the evening songs of birds and the loud roar of the Byskealven in the background. Prospects were not ideal for salmon fishing but I was here to find out and very much determined to do so! Gathering my lunchbox for an evening picnic I drove off onto a dirt track following the river to Fällfors, the biggest falls on Byskealven where a new salmon ladder is being built.
Just like in Pitlochry - exception made of the natural falls and the absence of dam - the Fallfors salmon ladder allows visitors to go in a vision chamber underneath the water level and observe ascending fish.
I had my sandwich in the vicinity and admired the sheer force of these falls: quite a sight! Token of the abundance of wildlife, I had by the end of the first day seen one fox, two mountain hare with their white socks, several curlew (the provincial bird of Vasterbotten) and last but not least one female elk busy leaking a salt rock left by the local rangers.
The following day, after a quick dip in the river to wash, the fishing really started and Carl guided me into about 8 different pools showing access to the water, correcting my casting and explaining the favourite lies.
As expected the locals use a lot of fox hair patterns on traditional hooks but also tied on tubes. Casting tends to be very square and any mending would rather be downstream to accelerate the fly rather than anything else.
The River Byske
Byskealven is Sweden's largest forest river with a width varying between 50 and 100 yards in places. Of course larger rivers exist in the north (Kalixalven, Tornealven) but with Byskealven you are already talking very serious current including series of rapids and frequent falls. Banks are often lined with birch trees and the river bed made of big rocks. Hence the very tricky wading with some deep holes right by the bank and a wading staff is an absolute essential.
Pools presented a contrasted picture of situations with gentle tails above falls where fishes would rest, fast deep glides and seams created by large rocks on the bottom. Just as in the UK, remote pools with more difficult access tend to be more lightly fished and since this is association water, a guide's knowledge is essential to discover lesser known pools where one still holds a good chance of a take but with less angling pressure.
In Carl's good company the day passed very quickly, just interrupted by a nice meal of reindeer cooked by the hut on an open fire. No sign of any salmon and just the odd small grayling finding the size 6 fly to its liking.
Returning to the car in the evening and in way of consolation we picked up the largest morilles -wild mushroom buffs will know what I mean - that I have ever seen. Some up to a pound and twice the size of my salmon reel. They made for a nice fry up back at the caravan!
With bright sunshine and a river level down, I fished the following day hard round the clock till 3am but to no avail. Locals were giving stories of fish being caught and indeed I saw one lucky angler succeed from the other bank.
In a good year Byskealven will yield 350 salmons for what is effectively only a two and a half months fishing season. Not bad at all with some of these fishes being 40lbs "pigs" as they are locally called!
With very warm weather but the water still much too high and a recent large influx of anglers queuing to occupy pools at night, I decided to make my way to Lodgealven and try a different river.
The River Lögde
At this time of the year, although the sun actually sets for a few hours, there is daylight 24 hours a day and anglers can fish round the clock enjoying the fresher moments when fish become more active.
Logde river lesser known but more allround. Lesser known than Byskealven where fishing permits for salmon cost £8 a day, Lower Logdealven managed by Logdealvens FVO can be enjoyed for a mere £3.50 a day. Even if it hasn't been subject to hydroelectric schemes yet like many other rivers around, the river had for decades its whole ecosystem devastated by the reckless removal of stones from its bottom to facilitate the carriage of millions of trees downstream to the local paper industry.
Nowadays methods have changed for the best and the river is described by the locals as the "best northern river to dip a fly in!" Not only salmons but also sea trouts run it and the habitat especially upstream of Fallfors, is compared by local expert Harry Salmgren as identical to the Kola Peninsula where 6lbs brownies are common encounters. "Best northern river to dip a fly in!"
My internet searches had resulted in contacts with local anglers both in the lower river near Nordmaling and upper catchments in Bjurholm. I was going to spend the rest of the week further trying my luck at salmon and eventually finishing by concentrating on graylings and brown trout in the upper river.
Rickard
All along my trip were the Swedish very friendly and eager to help, whether fellow anglers or camping owner, but the real warm welcome came from Rickard Sjostrom who runs laxguiden.com, an internet portal specialised in salmon angling in Northern Sweden.
We had been chatting by email for months and Rickard made a point of showing me the river himself. We fished his favourite pools and indeed saw some fish although were not lucky enough to land one.
Rickard guided me just like a true knowledgeable professional and confirmed that Lodgealven is indeed ideal fly water. Much shallower than Byskealven it is not as wide and powerful but still with plenty of character. This is fishing as wild as it gets and pools such as Toböle or Klöse offer true wilderness.
Access is good via dirt tracks and sightings of moose a strong possibility especially at night (we saw three in a few hours and also reindeer).
The Swedish love their outdoor and their taste is reflected in the infrastructure for anglers: toilet sheds are usually provided even in the most remote of pools (watch out for bee nests though!) and I even slept free of charge for two nights by the river in a very robust and comfortable log cabin.
An angler who was going home even lent me his sleeping bag to make the night a bit warmer. Bed and Breakfast do exist but with a low population density there are not so many of them and advanced bookings are advisable.
In Sweden, a tent can freely be erected almost anywhere. It all comes down to anglers expectations both in terms of fishing and standard of accommodation.
Harry and Nicke
Half way between the rough sleeping experienced earlier in the week and a five star lodge with all modern comforts stands Gammelgarden Camp where my trip ended.
Situated up river in a stunning forest location by a lake through which Lodgealven passes, it is run by world fly fishing championship contestant and organiser Harry Salmgren.
Traditional log cabins with open fire and a massive Indian tepee where meals are cooked add to the delightful character of the camp. Harry and Nicke, the two guides, manage a private stretch of the river home for large brownies and grayling. A tunnel now exists through Fällfors allowing future generations of sea trout and salmon to access miles of good spawning territory.
I stayed in the camp for three days fishing different pools in search of these huge browns that can be seen chasing anglers flies forming an impressive water bulge right behind the leader.
To tell the truth all anglers in the party but myself succeeded in their quest of catching each at least one of these leviathans. The biggest was just short of 8lbs. We all enjoyed bags of 3 to 10 fish a day with a mixture of grayling to 2lbs and brownies.
Still I had my own exhilarating moment when a huge fish leaped in the air right in front of me ostentatiously ignoring my fly. Each party needs its poor soul!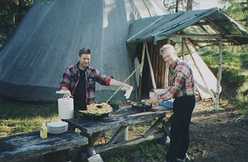 For the whole week the weather was excellent - may be too good- and altogether Sweden delivered its promise of wild fishing and pleasing encounters with fellow anglers and locals. Opportunities to learn are plenty with wet fly fishing, Czech nymphing, the occasional dry fly fishing not to mention excursions on Gammelgarden lake to tempt pikes with streamers. Even in Sweden, salmon fishing keeps its degree of uncertainty and although I had to go home without a fish, this definitely was quality fishing! I am up for it next year without a doubt!!!
A last word of warning about mosquitoes: go prepared as they mean serious business!!!
Practical information, Currency: Swedish Krone, £1 is currently worth 14.64 krones
Travelling: direct flights to Stockholm via Heathrow. From there internal flights to Umeå or Skellefteå. Return fare approximately £240.
Car hire: all major rental companies operate in Sweden. One week with a Vauxhall Astra with Budget, £140 excluding petrol.
Find local guides for the area here: Byskeälven - Carl Holmkvist www.seaside.se/~sunden/ Lögdeälven Gammelgården Camp - Harry Salmgren salmgren@flyfish.pp.se
Jerome


[ Index | Practice program | Competition waters ]
[ Welcome | Staff Presentation | The WFFCH | Tackle | The Waters & Venues ]






Southern Lapland River Guides
Vetlanda, SE-574 91 Sweden

EMAIL: SLRG@flyfish.pp.se

PHONE: +46 709 309 909/ FAX: +46 382 144 30